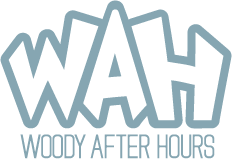 Woody After Hours is a webcomic centering around the daily lives of a group of people who put on a late-night talk show at the historic SWR Theater in Raleigh, NC. WAH's guests include characters from other webcomics.
WAH is written by Ben Carter and illustrated by Paul Westover.  There is a new comic every Monday, Wednesday and Friday. On Tuesday and Thursday Woody reviews real late-night talk shows such as Conan, Late Show, The Tonight Show, Jimmy Kimmel Live!, Late Night and The Late Late Show. So you're guaranteed five days of entertainment each week.
Cast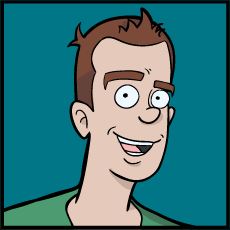 Name: Woody
Age: 38
Job: WAH Host
Woody decided to get a head start on his mid-life crisis. Instead of buying a sports car, he quit his job to host his own late-night talk show.
Optimistic: Yes
Funny: Sporadically
Crazy: Possibly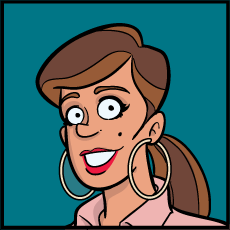 Name: Isabel
Age: 25
Job: WAH Producer
Isabel has sunk everything she has, and then some, into getting Woody After Hours off the ground and on its way to success. Her dream is to one day be a producer on Broadway.
Driven: Yes
Naive: Sadly
Poor: Mostly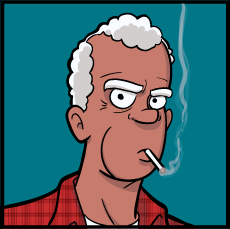 Name: Joseph
Age: 63
Job: WAH Cameraman
Joseph has been behind the camera for the army during the Vietnam War, The Tonight Show with Johnny Carson and Late Show with David Letterman. He has returned to Raleigh to slow down and take it easy.
Tall: Yes
Crotchety: Totally
Retired: Not really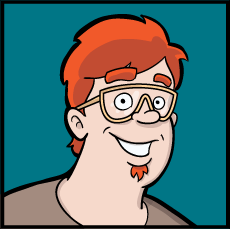 Name: Timmy
Age: 19
Job: NCSU student and WAH Intern
Timmy was introduced to WAH as a captive audience member. Freed much later than planned, he admitted that the show had potential and wanted to be a part of it.
Young: Yes
Geek: Unquestionably
Has potential: Questionably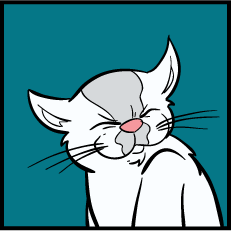 Name: Sidekick
Age: 2
Job: WAH Sidekick
One day Woody came into work and found a cat sleeping on his desk. Attempts to remove the cat failed, so Woody gave the cat the honor of being his sidekick on his show.
Furry: Yes
Domesticated: Barely
Napping: Constantly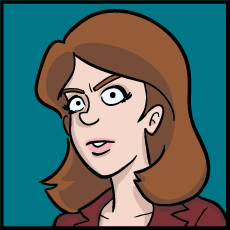 Name:  Renee
Age:  38
Job:  Consultant
Renee is Woody's wife. She's not enthusiastic about Woody's new career choice but loves and supports him. She is always working on her laptop. For who or what industry she consults is a mystery.
Smart: Yes
Workaholic: Probably
Passive-aggressive: Usually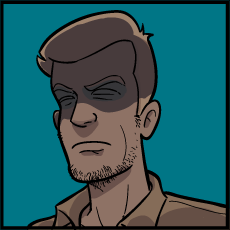 Name: Roger
Age: 35
Job: Agent
Roger is Woody's best friend. After each show the first thing Woody typically does is call Roger to see if he enjoyed it. Unfortunately, Roger has missed them all, as he is typically neck deep in the middle of his job.
Adventurer: Yes
Multifaceted: Largely
Available: Rarely
The ghost lives in the Sir Walter Raleigh Theater. Certain people on staff are aware of and friendly with the ghost. Others have yet to meet it, and therefore don't believe it really exists…yet.
Spiritual: Yes
Rational: Nearly
Purpose: Likely
Name: Benjamin
Age: 41
Job: President of Depth Varies
Benjamin is the head of Depth Varies, a conglomerate that includes a broadcast network called the DV. The DV runs Woody After Hours as part of its late-night lineup.
Big cheese: Yes
Decider: Unfortunately
Lover: Inappropriately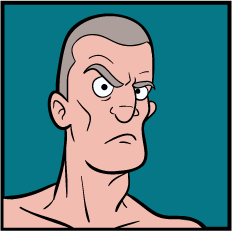 Name: Refrigerator Ninja
Age: 30
Job: Breaker of Bad Eating Habits
Refrigerator Ninja is a health nut who likes to help people lose weight through terror and mild violence. His effectiveness has translated into his own show on the DV.
Physically fit: Yes
Tough: Clearly
Intense: Absolutely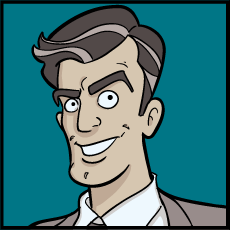 Name: Nemesis
Age: 43
Job: Master Sommelier
Nemesis and Woody met outside the SWR Theater a few hours before the first Woody After Hours show. Nemesis couldn't resist giving Woody a hard time just for fun. Their relationship has been rocky ever since.
Certified: Yes
Dashing: Positively
Smart ass: Occasionally
Legalese
All incidents, situations, institutions, governments and people are fictional.  Any similarity to characters or persons living or dead is entirely coincidental or is intended purely as a satire, parody or spoof.