on
April 2, 2015
at
12:01 am
My Late Night With Seth Meyers Experience
It's no joke; on Wednesday, April 1st, I was in the audience for the taping of the 186th episode of Late Night with Seth Meyers.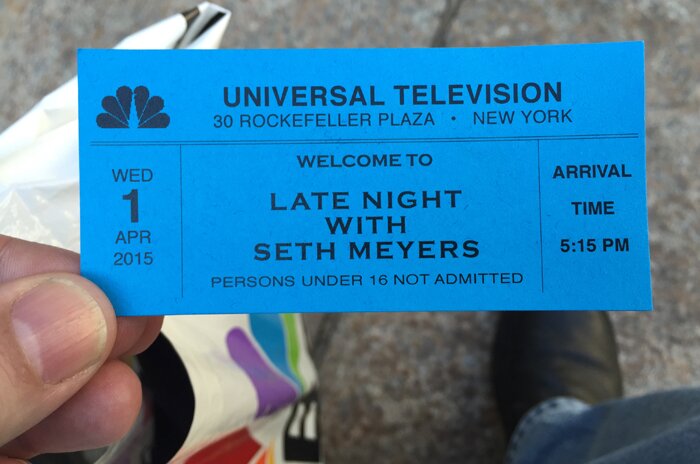 This was the first time I attend a late-night talk show by myself. Being alone during this type of adventure had, as you might guess, pluses and minuses. For me, the biggest minus was standing in line for over two hours with no one to talk to about how boring it is to stand in line for over two hours. Oh sure, I could have attempted small talk with the many couples that surrounded me in the hot bowels of 30 Rockefeller Plaza, but that could have been perceived as creepy. Instead, it was much easier to just eavesdrop on their conversations, which were often loud, and form opinions about them that would never be shared. Sure, that's creepy too, but not as much, hopefully.
Late Night is taped at 6:30 pm. They tell you that check-in begins at 4:00 pm. You would think that by now, after all the late-night talk shows I've seen over the years, I would know with absolute certainty to be there by 3:00 pm. to get a spot at or near the front of the line. But, no. For some reason I walked around NYC until 4:00 pm, which resulted in me being behind no less than one billion other people in the check-in line.
Tickets, we were informed, were broken into two groups. Group one would receive tickets with letters on them. These were the people who would be seated at 5:15 pm. Group two would receive tickets with numbers on them. These people would be seated at 5:30 pm, and were losers. I was given ticket number 21. This meant that there were 46 (26 letters and 20 numbers) groups of people ahead of me. Not just 46 people, mind you, 46 groups of two to four people ahead of me. I was doomed, not because I wouldn't see the show, but because I would see it from as far away as legally possible.
One of the biggest pluses of being alone for this type of adventure, however, is that often a row will have a single empty seat that needs to be filled. And, sometimes, these aforementioned seats just happen to be in the absolute middle of the fourth row of the center audience section. Despite my horrible ticket number, I lucked into that exact seat, and it was perfect. I had a terrific view of Seth during the monologue, a great shot above the cameras of Seth at the desk and his guests on the couch, and a fantastic view of the guest band when they performed.
Wanna see me? Here I am in the background when Seth announced the musical guest, Dead Sara:

Yeah, you're right, you can't really tell it's me. Lemme zoom in a bit and up the brightness:

No, that's still pretty crappy. Regardless, it's me. You just need to believe.
After the warm-up comedian made us laugh, and the 8G Band played us a song, Seth came out a minute before the show started to let us know that he and tonight's first guest, Ludacris, had taped their interview a few weeks ago, and would therefore not be there. Seth then informed us that they were going to pre-tape another guest interview in Ludacris' place for a show that would air a few weeks from now. That guest, much to the audience's delight, was Pharrell.
Personally, I didn't care if we were seeing Ludacris or Pharrell. What I appreciated was that my enjoyment at Late Night wasn't going to be shortened because there would only be one couch guest instead of the normal two. I also thought that it was really cool of Seth to be the one to share this news with us. Coming out and talking to us before the show ran the risk of diminishing his initial applause when the show started. Most hosts don't come out early for this exact reason.
Seth then went backstage and the show began. Here were my favorite monologue jokes:
A new report claims that happy couples have sex three to four times a week. So, if you're watching at home right now, sorry to hear it.
It's being reported that Kim Kardashian may be pregnant. Or, maybe, she was just standing backwards.
An Ohio assisted living home has released a calendar of its elderly residents posing nude. I tried to put one up in my office, but it hangs too low.
The comedy segment bits were an update on the 2015 LNSM Tournament of Things and "Will They or Won't They." They were both ok, but not entertaining enough to spend your time watching.
During the break Seth went backstage and changed his tie. So, in a few weeks when Pharrell is on, look for Seth wearing the same suit as in this episode, but with a blue tie. When Seth returned he made a big deal of showing the audience his new tie. We laughed and clapped.
Pharrell Williams was the first couch guest. He is a singer, producer and judge on The Voice. The interview was good. Pharrell was kind, gentle and told some amusing stories. My favorite part was learning that the McDonald's jingle "I'm Lovin' It" was originally written by Pharrell years after he had been fired from not one, but three McDonalds while growing up. Overall Pharrell was a pretty cool guy to see in person. And it was very generous of him to come up and pre-tape this interview. Just an hour earlier he was Jimmy Fallon's first guest on Wednesday's Tonight Show.
** Editor's note exactly one week later: Here's the clip of the McDonald's story:
During the break Seth went backstage again and changed back to his red tie. He made another show of it when he returned to his desk, and we laughed and clapped for him again.
Charlie Cox was the second couch guest. He stars on the upcoming show Daredevil. The interview was also good. Charlie was charming, funny and shared some interesting tidbits. He looked a little nervous, understandably, but did a fine job. He seemed to be pretty easygoing, and got along with Seth well. Here's the interview:
Interestingly, after Charlie's interview, Seth did another comedy bit called "New Slogans." It was weird to see this segment taking place after two guest interviews. I thought maybe they were going to move it to before the interviews in post, but they left it where it was. I liked it enough to recommend:
After "New Slogans" the Late Night crew brought out Dead Sara's equipment and started setting it up. Seth entertained us by walking up and down the audience aisle and answering our questions. This was amazing to me. In all the late-night tapings I've attended I've never seen a host interact with the audience this much, this close or this well.
Having a specific question already in my head a while now, I fought the urge to sit quietly and immediately raising my hand up high and yelled "oooh." This, somehow, got Seth's attention, allowing me to ask the first question. I asked him what had happened to Kimberly Thompson, the original 8G Band drummer. She had been on the show for the first year, but had been replaced by either Fred Armisen or Matt Schultz for the past few months. Seth said that Kim was doing her own thing and would be back soon. He answered ten or twelve more questions after that, but, since I don't remember any of them, I have to assume that they were all lame compared to mine.
Dead Sara was the musical guest. They rocked! I'm so glad I got to see and hear them live, because some of their awesomeness got lost when watching it through the camera.
After the show officially ended, Dead Sara played another song, which also rocked. This was the first time I had been to a show in which the guest band played two songs. It was the cherry on a delicious late-night experience sundae.
But, after that, it was over. They thanked us and then asked us to leave. We huddled in elevators, turned our phones back on and exited the building into the NYC nightlife.
Thanks for reading.
– Ben
---
Want to read about my other late-night audience member experiences? Well, if you ever change your mind, here they are:
My Late Show With David Letterman Experience
My Late Night With Jimmy Fallon Experience
My Late Late Show With Craig Ferguson Experience
My Tonight Show With Jay Leno Experience