on
March 20, 2014
at
6:32 pm
An Interview With Jenny Robb: Billy Ireland Cartoon Library & Museum Curator
This Saturday the Billy Ireland Cartoon Library & Museum (BICLM) will be opening two new exhibitions: Exploring Calvin and Hobbes and The Irresistible Force Meets the Immovable Object: A Richard Thompson Retrospective. BICLM curator and associate professor Jenny Robb was kind enough to take a couple of minutes out of her busy day to answer a few questions about the exhibitions before the grand opening Friday night.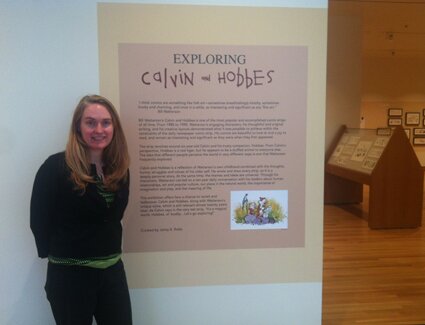 Ben: This is only the second time that there's been a Calvin and Hobbes exhibition. How were you able to make this happen?
Jenny: The first exhibition was in 2001, and it was only at two venues: the Cartoon Research Library, which has since been renamed the Billy Ireland Cartoon Library and Museum, and then that show traveled out to San Francisco to the Cartoon Art Museum. I was actually curator there at the time, and it was the most popular show to date that CAM had ever mounted.
When we opened this new space, which has these three beautiful exhibition galleries, we knew that we wanted to revisit Calvin and Hobbes, and that we had the opportunity now to do a much larger more comprehensive exhibition. The first exhibition was only Sundays, and it was a very limited number. This show is much larger. We have more than one hundred original pieces in the show, and we're able to include dailies and some other specialty pieces that he did, (such as) some of his early work from before Calvin and Hobbes and his influences. We knew with this new facility this gave us a really unique opportunity to be able to showcase Bill's work in an exciting way.
Ben: You approached Watterson with the idea…
Jenny: We asked him if he'd be willing to let us do a show. He was very gracious and very open to the idea. He's just been wonderful to work with. He's been very supportive and very helpful.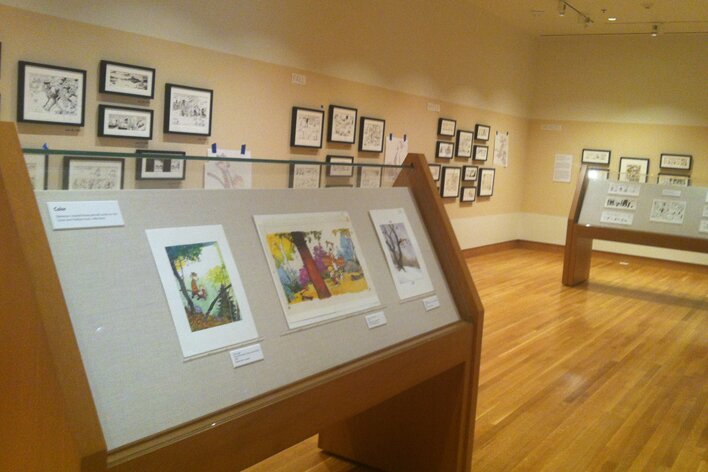 Ben: Did he help you to pick out the pieces in the exhibition?
Jenny: He came down and we discussed the general themes and the layout and how we would organize the exhibition. He didn't want to necessarily be involved in picking specific pieces. He said he would be interested in seeing what someone else chose. The first exhibition was of Sundays that he specifically chose to be in the exhibition. So this is a little bit different.
We do have some of his own words in the show. He's written specifically about each of the cartoonists who influenced him. (It's) interesting how someone can be influenced by someone else's work, but you might not be able to see it directly. That's one of the reasons why we have an "influence" section in the Bill Watterson exhibition. He chose pieces from our collection from artists who were important to him. And one of them is Ralph Steadmen, whose style is dramatically different than Bill Watterson's. But it's interesting that he credits him with influencing his work..
Ben: It must have been difficult to choose which strips to put in the exhibition.
Jenny: It was very very difficult to narrow down the number of pieces to a manageable number. It was so painful when I had to cut specific pieces that just weren't going to fit. I initially pulled about twice as many as we could possibly fit in the gallery. But that's because the quality of his work is so consistently high throughout the ten years that he did the strip, and because we have almost all of it. So it took a lot of work and a lot of time to narrow it down to what would work in an exhibition.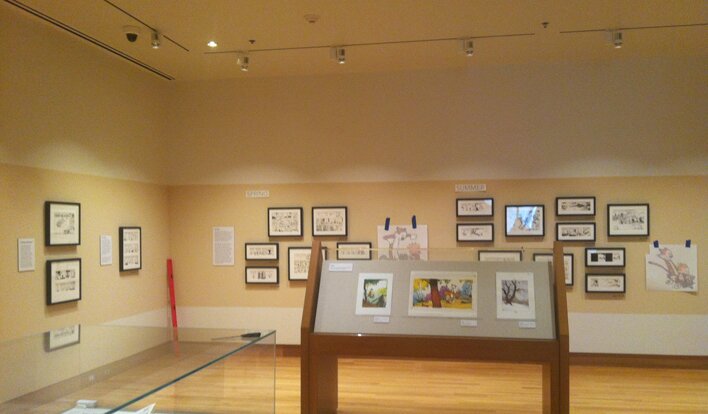 Ben: How many pieces of Watterson's artwork do you have?
Jenny: We have more than three thousand originals.
Ben: And you have a hundred on display here, give or take. So you have extras just lying around. Would it be possible for me to take a bunch home and put them on display in my house? What you can do is say, "Ok, you've been to this exhibition. Now head over to Ben's house where there's an extra exhibition of pieces that couldn't make it here but are good enough to be there for a couple of months."
Jenny: No.
Ben: You've been talking to the media a lot about the Calvin and Hobbes exhibition, and I'm sure they've been asking you the same questions over and over. Is there anything you would like to mention that people aren't giving you the opportunity to?
Jenny: A lot of people are very excited about the fact that we're doing a Calvin and Hobbes exhibition, and it's very rare for people to have the opportunity to see this artwork. What I don't want to get lost is the importance of pairing Bill Watterson and Richard Thompson. I think people who are fans of Bill Watterson who may not know about Richard Thompson and Cul de Sac will really enjoy it. That's important to us that people see the connection between the two. They're fans of each other's work, and they're admirers of each other's work, but also there's a certain synergy between the comics.

---
Thanks for reading.
Click here to read Jenny's interview with Bill Watterson and Caitlin McGurk's interview with Richard Thompson.
Click here for better photos of the exhibitions.
Click here to read A!'s interview with Jenny, which is better than mine.